Social Action
"Only a life lived for others is a life worthwhile." — Albert Einstein
Repairing the world (Tikkun Olam) is one of the central commitments of Judaism.  We at Ohev Shalom seek to fulfill that promise through social engagement within our congregation and beyond.  Throughout the year, Ohev congregants participate in social activities that are fun, challenging and rewarding, fostering connections with our local communities and with each other.  Please contact socialaction@ohev.net to inquire about participating in any of our ongoing community outreach programs.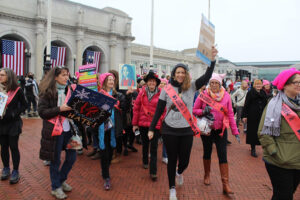 Meal Service at Life Center in Upper Darby – For more than twenty-five years, our congregation has participated in meal service at the Life Center every other month on the first Sunday of the month.
Annual Backpack and School Supply Drive – We collaborate with several other faith-based organizations to provide needed supplies to school children in Chester and Upper Darby.  The drive takes place each year at our summer picnic.
Annual High Holiday Food Drive – This drive is coordinated by Ohev families to provide provisions and food to several local food banks and homeless shelters.
A Better Start for Babies – This campaign provides vital supplies supporting newborns cared for at ChesPenn, a Federally Qualified Health Care Center. Items purchased with monetary donations, as well as your direct donations, are placed in gift bags and provided to families in need throughout the year.
Annual Thanksgiving Food Drive – Held on the Sunday before Thanksgiving, this food drive provides turkeys and other Thanksgiving provisions to Chester Eastside, Inc. in Chester.
To make a donation in support of any of our social actions, please click here.