Who We Are
Congregation Ohev Shalom is an engaged and diverse Jewish community in Delaware County that creates shared experiences for prayer, ritual, life-long learning, celebration, and comfort.  Together we seek friendship, spirituality, enrichment, and fulfillment, as we adapt traditional Jewish observance and custom to our ever-changing world.
Our young, dynamic clergy studied at the Jewish Theological Seminary and the Reconstructionst Rabbinical College, and they bring a modern and energetic perspective to their teachings and harmony and soul to their prayer leading.  Ohev's neighborhood feel makes it a home to people across the spectrum of religious observance, and to their family members of other faiths.
We aim to welcome, connect, support, and value all those who wish to experience Judaism, at any stage along their personal journeys.  We invite you to drop in any time.
To connect with us, click here.
To learn more about our clergy, click here.
Values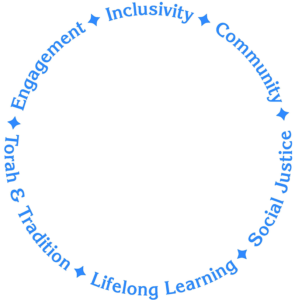 Congregation Ohev Shalom's six core values are: Inclusivity, Community, Engagement, Torah Tradition, Lifelong Learning, and Social Justice.  We represent them in a circle to illustrate their interconnectedness and equal weight.